Yes, I watched as much as I could. Here are my post-Oscars thoughts (in no particular order):
1. I want ALL THE DRESSES.
2. I want all the boys in their tuxedos--because there was a lot of FINE happening last night.
3. Ellen DeGeneres is hilarious.
4. Jim Carrey and Jamie Foxx? Um, not so much.
5. Still love Jennifer Lawrence.
6. Didn't see a *single* nominated film, but all of the winners seemed deserving.
7. Jared Leto and Matthew McConaughey? Um, yes and yes.
8. Was excited to see Idina Menzel perform "Let it Go," though something seemed a bit "off" to me--too fast, maybe?
9. Still, nothing compared to John Travolta's performance . . . of her name. WTF?
10. Pink's "Somewhere Over the Rainbow" was my favorite.
11. Bette Midler and "Wind Beneath My Wings"? Not so much.
12. Missed U2's performance, but happy to spot them on the red carpet and in the crowd.
13. I love Anne Hathaway as an actress, but she gives off a vibe at events like this. She's always "on." Someone tell her to relax, please.
14. Loved what Robert DeNiro had to say about writers: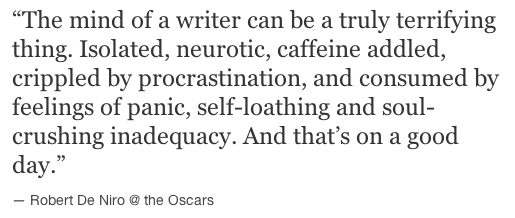 15. And finally . . . the boys. Yes, again. Because that room was full of the smexy.